According to a report from Reuters, Nigerian mystic John Adatiri was given a spoiler from beyond the grave on the outcome of the '10 World Cup, which starts next week in South Africa: Brazil will take it. The dead also informed him that his own home team would make the quarter-finals. Zulu witch-doctor Sebenzile Nsukwini has also contacted the dead in regards to the event, and assures us that there will be no terror attack on the World Cup. In other news, soccer is kind of awesome for once.
By the way, the World Cup isn't just the world's biggest sporting event, it's also an excuse to dress up! There's still time to order the Adult Male soccer uniform (the sexy Adult Female costume of currently out of stock, but there's always the Victoria Beckham-style "Soccer Wife Wig"). My personal favorite soccer-related item in the Fright Catalog is the Plush Soccer Ball Purse: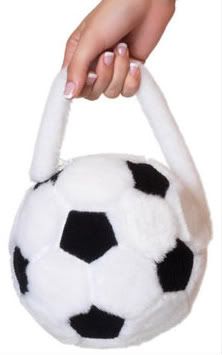 Next to the costumes of dead people, of course.
h/t: @nshn