Have you heard of the Vampire Woman, whose vampire mask is permanent? No? Then let me introduce you to her:
Maria Jose Cristerna, a mother of four, a trained lawyer, and a tattoo artist, has taken the love of vampirism to a new level of horrifyingly astonishing. Rather than following the glittery tweens of Twilight, she opts instead for transforming her physical appearance through the means of macabre tattoos, piercings, and implantations.
"Tattoos were a form of liberation for me. My family was and is deeply Catholic, Cristerna told Fox News. "I studied at a religious school, I fell in love, got married in white at 17, followed a career. I wanted to make things right.
While making things right is fine and all, one may wonder where this kind of love of vampirism, tattoos, and implants originated. For Christerna, it comes from a childhood of abuse and beatings. Every piercing, including her titanium horns implanted in her forehead, represents her change and strength.
"The horns I have are a symbol of strength and were implanted without anesthetic. I had the fangs done because I loved vampires as a little girl and I changed the color of my eyes so they were how I really wanted them to be.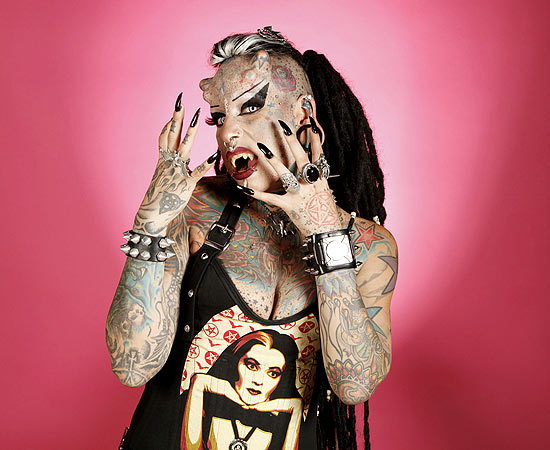 Anyone who goes under the knife without anesthetics has got to be one mean mother. That's serious business, which only goes to further back her self-proclaimed vampiric nature. And as stated above, she also had fangs dentally implanted.
But wait, even though nearly 100% of her body is tattooed and she has countless piercings, her transformation is not quite complete. She also plans to have two titanium implants put into the back of her head. Why? Because shes a vampire.
"Tattooing is my way of being immortal, of really being a vampire and not dying leaving my work on other people's skin."