AMC wants to be on your Halloween night schedule, hoping folks will follow the evening's celebration in front of the TV, for the premiere of the long-awaited "Walking Dead" series at 10:00 PM.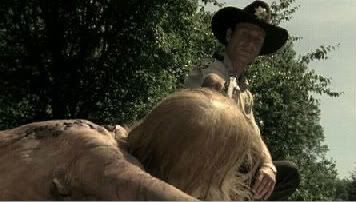 My initial reaction, honestly, was that October 31st seems kind of late. I was hoping the show would launch earlier in the month, though I'm not sure where I got the idea that it would. Then the question: is the target demo going to be home in front the TV on Halloween night? The show is anticipated enough that a lot of people will make sure to be now, but it's not on everyone's radar yet. Of course, I say that before they've blitzed the trailer during "Mad Men" and "Breaking Bad."
In any event, it's a Sunday night; the biggest parties will be going on Friday and Saturday. Actually, the more I think about it, the timing sounds just about right: prepare the feast, do trick-or-treats, visit the neighborhood haunted house, and cap off the night with "The Walking Dead" premiere. Not bad!
Of course, this is all the more reason to have a zombie theme this year–and naturally Fright Catalog has all sorts of props, costumes, and zombie accessories for the big day!
Comments
comments