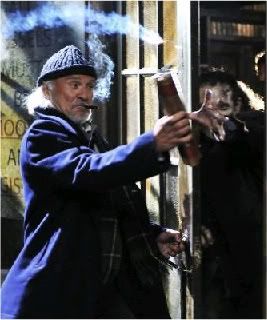 When the zombie apocalypse hits, one thing most survivors can really use is a dad — someone to protect them, make sure they have food and shelter, and who always, in theory, knows what to do. Zombie movie dads do what they have to do, sometimes, like moms, even if it means their own doom. In honor of Father's Day, here are five notable zombie movie dads (spoilers ahead):
Harry Cooper, Night of the Living Dead: Antagonist, bully, devoted dad. And, not for nothing, right about staying in the basement, no matter how much more appealing Ben is. Of course, the basement isn't quite so safe if your sweet daughter has you for dinner.
Frank, 28 Days Later: Frank is the dad you'd want to have when the shit goes down: smart, nurturing and badass. Daughter Hannah had a sense of security and reason to live that few movie survivors have, at least until Frank's infection. In an alternate ending, Frank is actually cured and reunited with Hannah — it didn't really work, but part of me wished it could have.
Patrick O'Flynn, Survival of the Dead: O'Flynn is one of two hard-headed feuding patriarchs on a tiny island, and the father of a couple of its inhabitants, including Judy. Judy wasn't dealt the best hand in the dad department, but she's one of the few adult zombie movie characters to have one. She doesn't take it for granted: it's Judy who acts as protector of her dad from the rival patriarch and suggests his banishment when things get ugly. Well, one of the many times it gets ugly.
Andre, Dawn of the Dead (2004 Remake): A newborn baby introduces the concept of instant, unconditional love to a lot of new dads. How unconditional? Andre didn't seem to even consider being anything but a proud new daddy when his zombified wife, Luda, gave birth to his beautiful undead daughter. Kind of shocking, but pretty sweet.
Tallahassee, Zombieland: Tallahasse is not quite right, more than a little bit as a result of the fact that he's a father who lost his son. Who he talks about as if he could be a dog. But a dog he really, really loves.
Now go give dad his annual tie, and make sure your emergency plans in case of zombie apocalypse are synchronized. You wouldn't want to have to navigate it without him.
Comments
comments